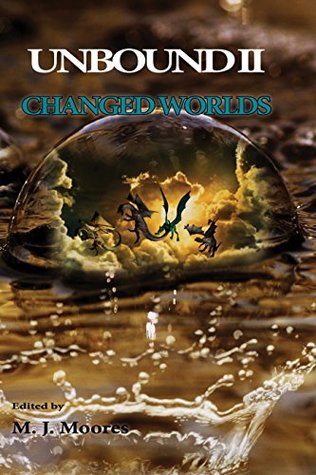 The Unbound Anthologies are a collection of short themed stories perfect for your reading pleasure. Every year we open a call to authors around the world challenging them to create never before created works of fiction, pick the best ones, and bundle them together for you.
This edition, our authors received the challenge of "Changed Worlds" in the Science Fiction and Fantasy genre. And now we are pleased to present to you:
Micheal Healy's "Hail Bruce"
Dainel Powel's "Reclaiming the Elements"
Clint Spivey's "The Barred Gates"
Lee Clark Zumpe's "Book of Being"
Dale L. Sproule and Sally McBride's "The Birthing Blades"
Barry Charman's "The Knot"
Philip Brian Hall's "The Hard Stuff"
M. M. Pryor's "The Witch's Intern"
M. C. Tuggle's "Hunting Ground"
K. T. Wagner's Mountains to Cross"
M. J. Moores' "The Reckoning"
Relish in the talent of our authors and lose yourself in "Changed Worlds".